Welcome to the 2017 Spring Meeting Webpage.
Event will start in
28
Days
09
Hours
59
Minutes
52
Seconds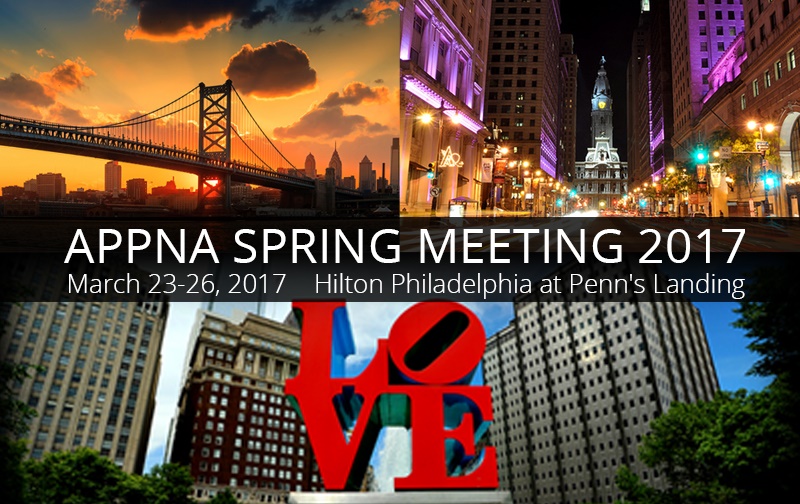 DAILY EVENTS SCHEDULE
FRIDAY MARCH 24
Time
EVENT
6:30 AM
REGISTRATION
8:00 AM – 7:00 PM
Bazaar / Exhibits
7:00 AM
CME Breakfast
7:30 AM – 12:30 PM
CME Session
12:30 PM – 1:30 PM
CME Lunch
1:00 PM – 2:00 PM
Jumaa Prayer
2:00 PM – 5:00 PM
Alumni Retreat
2:00 PM – 5:00 PM
King Edward Strategic Planning Meeting
2:00 PM – 5:00 PM
Alumni Retreat
7:00 PM – 9:30 PM
Dinner (Bring back memory of Pakistani Village)
10:00 PM – 1:00 AM
Farshi Music program
SATURDAY MARCH 25
Time
EVENT
7:00 AM
REGISTRATION
9:00 AM – 4:00 PM
Council Meeting
8:00 AM – 7:00 PM
Bazaar / Exhibits
4:00 PM – 6:00 PM
Planning Meeting I
4:00 PM – 6:00 PM
Planning Meeting II
10:00 AM – 11:00 AM
Parents & Singles Discussion Group
4:00 PM – 6:00 PM
Social Forum
1:00 PM – 6:00 PM
YPN
7:00 PM – 10:00 PM
YPN Dinner
6:30 PM – 7:30 PM
Reception & Appetizers
7:30 PM – 1:00 AM
APPNA Banquet & Entertainment
SUNDAY MARCH 26
Time
EVENT
8:00 AM – 10:00 AM
Breakfast
8:00 AM – 12:00 PM
Bazaar / Exhibits
APPNA offers vendors and non-profit organizations an opportunity to showcase their products and/or services throughout the convention. Exhibitors at APPNA conventions represent a diverse spectrum of industry; including, but not limited to pharmaceuticals, bio-technology, investment, insurance, real-estate, clothing, jewelry and not-for-profit organizations.
Retail Exhibitors (Clothing, Jewelry, Art, etc…), please download the APPNA 2017 Spring Meeting Retail Packet for all the necessary information.
Online Registration; however the exhibitor packet form still needs to be filled and the executed contract returned to APPNA.
************************************************************************
Please follow all the instructions on the form.
Contact the APPNA office for any question.
Phone: (630) 968-8585
Fax: (630) 968-8677
Email: meetings@appna.org
Address:
APPNA
6414 South Cass Avenue
Westmont, IL 60559
REGISTRATION FOR FEMALES HAS CLOSED.
IF YOU TRY TO REGISTER YOU WILL BE CHARGED A $30 CANCELLATION FEE.
FOR WAIT LIST, EMAIL appna_ypn@yahoo.com, WITH NAME, AGE, PROFESSION
& PLACE OF RESIDENCE.
The goal of YPN is to give singles both affiliated with APPNA and not affiliated with APPNA, between the ages of 22-47 years, an opportunity to network, socialize and maybe to "find that special someone". Since 2008, YPN has formed a list serve of over 1400 young professionals to inform them of upcoming events. For the past six years, we have started profiling some of the professionals on the list serve as well as facilitating exchange of profiles and the response has been very positive. Since 2008, a number of YPN weddings and engagements have taken place and many more young professionals are seriously communicating with each other. For more information go to http://www.ypnusa.org.
This spring, the YPN event will be held on Saturday, March 25, 2017 at the Hilton Philadelphia at Penn's Landing in Philadelphia, Pennsylvania.
Main Event – 1:45 pm to 6:00 pm, followed by social and dinner at 6:00 pm to 10:30 pm.
Space is limited and there will be absolutely no onsite registrations.
Refunds will only be issued if notified by email to appna_ypn@yahoo.com at least 10 days prior to the event and will include a $30 cancellation fee.
Host Committee
Chair:
Dr. Haroon Durrani
durraniharoon@gmail.com
Co-Chairs
Dr Jamil Mohsin
jamilmohsin@yahoo.com
Dr Sajjad Savul
savul@email.com
Advisors
Drs Sarwat and Javeed Iqbal
CME Committee
Dr Sajjad Savul – Chair
Dr. Meher Khan
Dr. Nayyar Iqbal
Dr. Nadeem Ahsan
Alumni retreat Committee
Dr. Mohammad Arshad Chair
Dr Sami Janjua
Publication Committee
Dr Nadeem Ahsan chair
Dr.Shela Saddiqui
Communication /Media Committee
Dr. Ghazala Farooqui Chair
Dr. Sohail Iqbal
Dr Masood Siddiqui
Vendor Committee
Dr.Umar Farooq Chair
Dr. Shehla Siddiqui
Food Committee
Mr. Iqbal Haider Chair
Mr. Azfar Kaleem
Dr. Sohail Rana
Mr. Malik Suleman
Sight Seeing/ Transportation Committee
Dr Mohammad Murtaza Chair
Dr. Sujood Ahmed
Entertainment / Decoration Committee Committee
Dr. Nimra Rana Chair
Mrs Fauzia Kaleem
Mrs Nusrat Mohsin
Mrs Annie Anjum
Mrs Maheen Durrani
Dr Sajid Chaudhry
President APPNA 2017