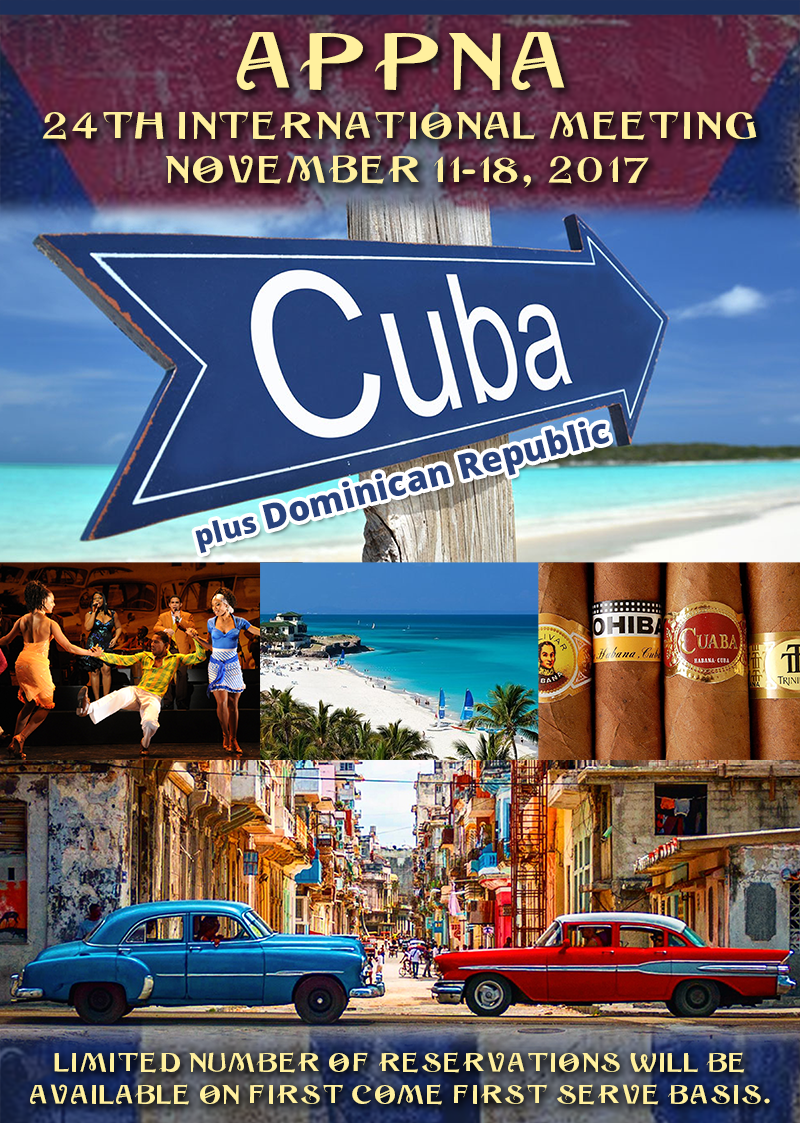 Final Registration Deadline Extended to August 15th.
To register online, please log into your APPNA account at the following link.
https://www.instantreg.com/appnatemplate2/appnasignin
You may also register for this meeting by downloading the registration form and returning it with payment to APPNA by mail/fax/email.
Email: meetings@appna.org
Phone: (630) 968-8585 ext. 106
Fax: (630) 968-8677
Mailing Address:
APPNA
6414 South Cass Avenue
Westmont, IL 60559
APPNA 24th. International Meeting
Cuba & Santo Domingo
November 11-18, 2017
DAY ONE, SATURDAY, NOVEMBER 11th
Arrival in Havana
• Arrive in Havana at José Martí International Airport and transfer to the hotel.
• Check in hotel.
• Enjoy the unique opportunity to learn about the mysteries of the most famous Cigars in the world by the hand of a Habanos Sommelier. You will learn about the origin, cultivation, processing and final consumption of the product. As a culmination they will enjoy a pleasant tasting of Habanos and their pairing with Cuban coffee thus achieving an exquisite mixture of flavors.
Departure for dinner in Restaurant Café del Oriente, located in Plaza de San Francisco de Asis. Dinner with traditional live band.
Departure to Tropicana to enjoy a great tropical show in this "paradise under the stars" The Cuban culture was forged in a mixture several cultures, fundamentally the Spanish and the African. From there came the roots of their rhythms, their dances and their music. Tropicana Show is a trip through Cuban rhythms and dances from its origins to the present day. Here you will not only enjoy a cultural event but also learn about the island's musical culture and dance.
Return to Hotel.
Meals: Dinner
DAY 2, SUNDAY, NOVEMBER 12th
Havana, its history and architecture.
Breakfast in Hotel
Depart to visit Fusterlandia. Discuss the artist's public art revitalization project and stroll down streets decorated with mosaics, pausing to interact with the locals whose neighborhood has been transformed by the project.
Straight to Old Havana for a walking tour. Enjoy a private tour around old Havana highlighting the main historic plazas: Plaza de la Catedral, Plaza de Armas, Plaza de San Francisco and Plaza Vieja. During the tour, you will be able to exchange with their residents and learn about how the city was founded and developed, as well as how Cubans live today.Then cross the tunnel of Havana to enjoy a Panoramic visit to Morro Castle.
Lunch at La Divina Pastora, a place where not only you will enjoy a tasty meal, but also enjoy one of the most beautiful views of the city, as well as the calm waters of the entrance of the Bay of Havana.
Peruse Almacenes de Depósito San José, a giant arts and crafts market, and interact with artists and practice your haggling for those final mementos. For those who want to return to the hotel to freshen up and get ready for the night, a 15-minute transfer service will be provided between 4:30 pm and 6:00 pm.
Enjoy a dinner with music hosted by the Ambassador of Pakistan to Cuba at his residence. Here you will have the opportunity to exchange with the Ambassador of Pakistan on the island, and learn about the influence of Pakistani culture in Cuba. In addition, they will know about Cuba seen from the eyes of the Ambassador. Dinner on the pool and performance by Salsa band.
Return to hotel
Meals: Breakfast, Lunch, Dinner
DAY 3, MONDAY, NOVEMBER 13th
The countryside and its beautiful landscapes, flora & fauna.
Breakfast in Hotel
Departure to visit Las Terrazas, a rural experience of sustainable development located within the Sierra del Rosario Biosphere Reserve that occupies a natural area of about 5 thousand hectares. The territory enjoys numerous landscape values, mountain ranges and narrow valleys refreshed by rivers and streams with beautiful waterfalls that mix with profuse evergreen forests of characteristics similar to the rainforests. Here you will have the opportunity to exchange with residents, and learn about their customs and way of life. Arrival at Villa Soroa where you will enjoy a Walking tour to a ceiba tree, the most ancient tree in the region with more than 650 years, brief explanation of its history and values on afrocuban religion; Visit to the Botanical Garden, Soroa's Orchids Garden including varieties of Cuba and the world as ornamental plants and trees; Continue the tour until "Complejo Las Terrazas"; Welcoming cocktail at Rancho Curujey. Brief explanation of that nature wonder project; Visit to Buenavista coffee plantation a partially restored XIX century farm; Visit to Moka Hotel; A walking tour along the main streets of the community gives the visitors the opportunity to get in touch with the warm and hospitable locals. Lunch including one drink in Casa del Campesino.
• Briefing and Q&A with a local anthropologist on Cuban society. During this conversation, you will have the opportunity to learn about the status of Cuba-USA relations, their impact on the Cuban population and the expectations of Cubans based on the changes made, all from the perspective of a Cuban anthropologist.
Meals: Breakfast, Lunch, Dinner
DAY 4, TUESDAY, NOVEMBER 14th
Havana, its culture and art.
Breakfast at your hotel.
Drive to Ernest Hemingway's Finca Vigía. You'll hear about some eccentric stories surrounding the writer on the bus over, and then have some time to wander on your own around the property.
Lunch at El Aljibe, a restaurant where everything evokes Cuba from its infrastructure to the way of peasant ranch, to the stools and tables of simple assembly but finely decorated, as well as the uniforms of the service dressed with Guayaberas. A place where they will taste the best of traditional Cuban food through recipes whose secrets jealously guard their founders.
Depart to visit an agricultural market. This will be a good opportunity to learn about the agricultural production in Cuba and the commercialization of its products, while interacting with the farmers and traders.
Visit to the project ROX950, In Search of the Sun: "The true beauty in the simplicity of the exclusive", which builds the imaginary of its creator, Rosana Vargas and places it in the most contemporary slopes, while implying its altruistic feeling when being constituted in Light and path for unemployed young people who learn from their teachings in the office of fire and forge. Here you can exchange with its founder and learn about how difficult the art of goldsmithing in Cuba can be developed.
Visit to the home-studio of the young painter and engraver Kelvin Lopez, who if something characterizes his work, is the diversity of styles that make of his art an expression of his own style. With many individual and collective exhibitions, this painter has achieved that his works are exhibited in places like: Arizona State University Art Museum, Phoenix; Amistad Foundation, New York; And MOLAA, Museum of Latin American Art, California. During the visit you will be able to interact with the artist, who will gladly receive you, and his work.
Return to the hotel to freshen up.
Take a cruise in old classic convertibles up to Club Havana, where you will enjoy a dinner specially prepared for you with spectacular views and an unforgettable sunset. APPNA has rented fleet of old classical convertable cars that will drive us through scenic route to Club Havana located on ocean. you will enjoy sunset views and followed by delicious dinner with live music.
Return to the hotel
• Meals: Breakfast, Lunch, Dinner
DAY 5, WEDNESDAY, NOVEMBER 15th
Goodbye Havana!!!
Breakfast at your hotel.
Transfer to Airport for charter flight to Santo Domingo, Dominican Republic
Arrive in Santo Domingo; Transfer to hotel – Check-in
Santo Domingo City Tour:
Have a fascinating journey around the great capital of Dominican Republic and discover the important cultural and historical sights of Santo Domingo on a 4 hour guided tour of the city. Explore the city of Santo Domingo on board a comfortable vehicle with a professional guide to assist you through the tour. Learn the interesting history and some fascinating facts about Santo Domingo as you tour around the city taking in the attractions and sights along the way.
Start the tour at Colonial Zone, a UNESCO World Heritage Site, and explore the notable landmarks situated in the area, such as Fortaleza Ozama, Catedral Primada de America and Calle Las Damas. Stop at National Botanical Garden and Blue Mall, as well as the Three Eyes Park, an underground cave with three natural lakes.
With many amazing attractions around Santo Domingo, make sure to capture wonderful photo opportunities, particularly at Palacio Nacional, Waterfront Artisan Kiosk and Columbus Lighthouse.
Dinner on own (many restaurants to explore near hotel in down town)
Meals: Breakfast, Lunch
DAY 6, THURSDAY, NOVEMBER 16th
Las Maravillas Caves & Altos de Chavon Day Tour
Embark on a fascinating adventure as you journey from Santo Domingo to Maravillas Cave and Altos de Chavon. Learn about the culture and history of each place from an expert guide as you discover the wonders of the Dominican Republic's southern coast.
After hotel pick-up in Santo Domingo, head towards Las Maravillas Cave, the first natural museum of Rupestrian artwork in West Indies, located inside a hundred year old cave. Have a glimpse of the cave's exquisite geological formations and learn about the history of the pictographs left by the native Taino Indians.
Continue to Altos de Chavon, a re-creation of a Mediterranean village situated atop the Chavon River. One of the most popular attraction in the city, Altos de Chavon has an archaeological museum, amphitheater and cultural center. Browse through the craft ateliers and small production centers where local artisans develop and create ceramic, silk-screen and woven-fiber products showing the island's history at the same time boldly introduce design concept and quality internationally.
DAY 7, FRIDAY, NOVEMBER 17th
Catalina Island Tour with Snorkel
Discover the beauty and charm of Catalina Island on a day trip from Santo Domingo and spend the day filled with fun activities, including eating, drinking, snorkeling, swimming and even dancing. Considered as the hidden treasure in the Caribbean, the island of Catalina is surrounded by coral reefs and white-sand beaches. With an expert guide, get an insight of the geography and history of Catalina Island and its natural environment.
After hotel pick-up, head towards La Romana Port to board on a boat going to the island of Catalina and enjoy the scenic views of Boca Chica and San Pedro Town as the guide talks about the sugar industry and famous baseball players born in the region. Upon arrival, take in the beauty and charm of Caribbean's exquisite paradise. Take delight in a welcome drink and learn about the island of Catalina as your guide shares the island's interesting history and fascinating facts highlighting the natural features of the island.
Continue to the Wall, one of the most beautiful diving sites in the country, and snorkel your way into the water using the equipment provided. Get a chance to see extraordinary species underwater and observe them at their own habitat.
Enjoy a typical Dominican lunch buffet with drink from the open bar, including water, soft drinks, beer, coffee and cocktails such as Cuba Libre and the famous Ron Dominican Mamajuana.
Hit the white-sand beach for your free time and take a refreshing swim in the island's crystal clear waters, take some time to relax and stretch out on a lounge chair, or show off your impressive dance skills as you dance merengue and bachatas on the dance floor with the local entertainers and guides.
DAY 8, SATURDAY, NOVEMBER 18th
Fly back to USA
Day One – Wednesday, November 15, 2017: 8PM – 11PM
| Speaker | Topic |
| --- | --- |
| Arif Muslim, MD | Intestinal Gas |
| Sajid Jalil, MD | Liver Cancer – HCC |
| Fauzia Rana, MD | Bleeding Disorders |
Day Two – Friday, November 17, 2017: 7AM – 10AM
| Speaker | Topic |
| --- | --- |
| Uzma Nasim, MD | Alzhemier's Dementia |
| Shahid Ahsan, MD | Sleep Disorders Current Guidelines |
| Fayyaz Hashmi, MD | Minimally Invasive Cardiac Surgery |