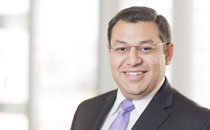 APPNA lifetime member Tariq Jawaid Alam, MD, has been elected national chair of the General Neurology section of the American Academy of Neurology at the association's 68th annual meeting in Vancouver, BC in April this year. Dr. Alam's tenure is for a 2 year period from April 2016 to April 2018. Dr. John Ferro, neurologist from New York was elected as vice chair.
Dr. Alam is medical director of stroke and neurology services at Mercy Hospital Jefferson and is also a physician reviewer appointed by the state of Missouri to inspect Missouri hospitals for Time Critical Diagnosis accreditation such as stroke.
Dr. Alam has been an active member of APPNA since his residency days. He graduated from Dow Medical College in 2005 and finished residency in neurology from St. Louis University in 2011, He then did a clinical neurophysiology fellowship from the same institute graduating in 2012. He has been in practice in St. Louis, Missouri since 2012. Dr. Alam has been actively involved with APPNA young physicians committee and was the editor of the APPNA publication, "Guide to US Residency; Resource Handbook for Graduate Medical Education in the United States," published in 2011 and which continues to provide useful information for aspiring young medical graduates from Pakistan. Dr. Alam has also been editor of DOGANA magazine since 2011.
Dr. Alam will be working closely with the American Academy of Neurology to further the interest of general neurology among practitioners including quality, safety, retention and reimbursement issues.