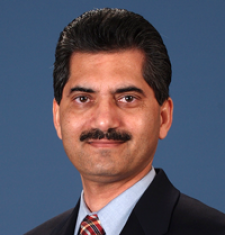 Sajid Chaudhary, MD
Immediate Past President
Dr. Chaudhary practices as an Infectious Diseases Specialist in Central Florida. He graduated from Allama Iqbal Medical College, Lahore Pakistan in 1985.
He completed his residency at Memorial Hospital, Brown University, Rhode Island, in 1997 and Fellowship training at University of Massachusetts Medical Center in 2004. He is married to Dr. Rubina Inayat, a Child Psychiatrist by profession.
History of Services to APPNA:
-President APPNA 2017.
-President Elect APPNA 2016.
-Secretary APPNA 2008.
-Co-Chair APPNA Summer Convention Host committee, 2015.
-Chair, Committee on Young Physicians of APPNA, 2014.
-Member of Advocacy and Legislative Affairs. 2014
-Chair APPNA membership committee 2010.
-Chair APPNA Communication Committee 2005-2006.
-Member of SWDRC committee 2005-2006
-President of APPNA Physicians in Training section 2004.
-Founding member of Young Physician Taskforce 2003.
Allama Iqbal Medical College Alumni Association (AIMCAANA):
-Executive Director AIMCAANA 2010-2015
-Member BOT AIMCAANA 2005-2010
-President AIMCAANA 2003
-Secretary AIMCAANA 2002.
Services to community at large:
-Board Member of Muslim Heritage Council of Rhode.
-Raised funds for Shaukat Khanum Foundation, Koohi Goth Hospital, HDF and, Islamic Relief
-Founding member & past President of Association of Pakistani Americans of Central Florida (APA).
Professional & Medical activities:
-Diplomat in Infectious diseases and Int. Medicine
-Practicing Infectious Diseases in Central Florida 2004-todate
-Member Board of Trustees, at Osceola Regional Medical Center, Kissimmee, FL 2013-2016.
-Vice chairman Department of Medicine at Osceola Regional Medical Center 2011-2012
-Member of various committees at Osceola Regional Medical Center, Kissimmee, FL
-Member Faculty, UCF College of Medicine, Orlando Florida
-Specialty Coordinator for UCF Internal medicine residency program.