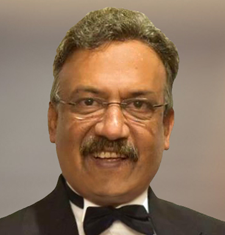 Iqbal Z. Hamid, MD
President 2018
Dr. Iqbal Zafar Hamid did his undergraduate from Cadet College Petaro in 1977. Studied medicine at Sindh Medical College, Karachi and graduated MBBS in 1985.
He did his internship in Pediatrics at Lutheran Medical Center, Brooklyn, NY and finished his Anesthesia Residency and Fellowship at St. Joseph's hospital and Medical Center in Paterson, NJ.
After graduation, moved to Utica NY with his first job as an attending where he worked for 10 years. In 2002, he moved to Florida and has been working as Anesthesiologist at JFK Medical Center in Atlantis.
Dr. Hamid is married to Sheeba Hamid for 30 years. He has 3 children, Najia, Novera and Nabeel who have graduated college. Najia and Nabeel have been the President of SAYA in 2007 and 2013 respectively.
Services at APPNA & SMCAANA
President Elect APPNA 2017
Secretary APPNA 2016
Treasurer APPNA 2015
Chair Finance Committee 2015
Chair Asset Management Committee 2015
Executive Director APPNA South Florida Chapter 2015
Chair APPNA Summer Meeting Orlando 2013
Chair Liaison Committee 2012
Chair APPNA Fall Meeting Miami 2010
President Sindh Medical College Alumni 2010
President South Florida Chapter 2007-2008
Co-Chair APPNA Summer Meeting Orlando 2007
Social Secretary Sind Medical College Students Union 1983
Class Representative Sindh Medical College Students Union 1981