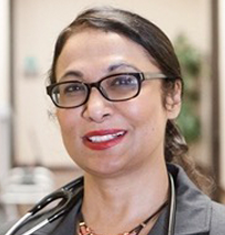 Lubna Naeem, MD
Treasurer 2018
A physician advocate for responsible use of expertise and influence to advance wellbeing of communities.
I am a Board Certified practicing Internist for over eighteen years in the state of Texas, developed passion for community and public health while serving as a Medical Director in the underserved areas of United States. It started with volunteering to work at challenges of Diabetes Awareness specifically in Hispanic population. In addition offered record free flu vaccines to the deserving communities and volunteered for multiple other awareness programs such as mental health issues and breast cancer collaborative.
Although the job finished in the underserved area long time ago but the passion grew to continue partnerships within the communities and numerous sectors of the societies to address concerning challenges such as the epidemic of obesity, specially childhood obesity, breast cancer awareness and other fronts to make prevention and health promotion backbone of strong and healthy America.
Married to Muhammad Naeem, a Gastroenterologist, community leader and cricketer. Blessed with two beautiful children. I love to play tennis, watch movies and write scripts in my spare time.
Awards and community contributions
2017: APPNA Legislative Committee Advocate for J1 VISA and placement of residency
2017: APPNA Mobile Health Clinic benefit concert fundraiser Coordinator 2017 in collaboration with AAP1 and TIPPSW
2016: President of National APPNA fall meeting 2016 host chapter with record fund raising tied to mobile health unit
2016: Chairperson CME APPNA fall meeting 2016
2016: President Obama's award for outstanding volunteer services and recognition from U.S. Surgeon General & Hillary Clinton for APPNA childhood obesity awareness campaign
2016: APPNA dedication and recognition award: On APPNA Women and Children Affair Committee; Maryland
2016: President APPNA South Central Texas Chapter
2013-2016: Chairperson APPNA Women and Children Affair Committee (Childhood Obesity, Breast Cancer and End of Life Care Awareness)
2015: Dow Graduate Association of North America Award for Outstanding service and Recognition
2015: APPNA-SCT Community Star Award for Outstanding Achievements
2015: Keynote speaker Orlando Chapter Night, Diabetes Preventive Campaign in Children
2015: APPNA Dedication and Recognition Award: On Childhood Obesity Awareness Campaign; San Francisco, CA
2015: CME Services to AIMCAANA Recognition Award, International Meeting
2014: APPNA Dedication and Recognition Award: On Childhood Obesity Awareness Campaign; Washington D.C
2013: Chairperson host committee APPNA South Central Texas Chapter inaugural banquet
Health Disparity Collaborative Leadership South Texas
Community Contribution Award: South Texas Rural Health Services Business of the Quarter – Provided free flu vaccines to Frio County, TX
Medical Column – Frio-Nueces Current newspaper: The Challenge of Diabetes specifically addressing Diabetes Awareness in the Hispanic population
Obesity and Weight loss what you need to know! Methodist Stone Oak Hospital Lecture Series Menopause, What Women need to Know!
Cultural Perspectives on End of Life and palliative Care conversations: Spirituality and Health Care Conference
Top Internist of San Antonio from Medical peer community: 2006– 2013
Top Physician – Consumer Research Counsel of America
NFit Woman Magazine: Ask the Expert Series on Healthy and Beautiful you
Texas MD and San Antonio Women Magazine: Ask the Expert Series on Beautiful bodies
Writer and Director of Stage Play "Pind di Shaan Shaano" promoting Girls Education at TCF Gala, San Antonio
Physician Leadership Counsel member:Baptist Health Services
Member of Susan G Komen Race for the Cure, Women in Medicine and Law
Breast Cancer Awareness partnership with Baptist Breast Centers and Susan G. Komen
ACADEMIC
Professional experience and appointments
Principal Physician at Internal Medicine of Stone Oak Director/Owner Soni Med Spa
Practicing Internist and Medical Director, South Texas Rural Health Clinics
Residency, Internal Medicine, St. Louis, University of Medicine, St. Louis, Missouri
Instructor pathology Residents Baylor College of Medicine, Houston, Texas
Histopathology, Dept. of Pathology, Mount Sinai School of Medicine, New York
Resident (Demonstrator), Pathology, King Edward Medical College, Lahore, Pakistan
Licenses and certificates
Texas: Active: California: Active: ABIM Certification: Active
MBA – In Progress, University of Massachusetts, American College of Physician
Executives Completed Courses: 1. Health Law 2. Ethical Challenges for Physician
Executives 3. Measuring Physician Performance
Memberships in professional societies
American College of Physicians, American Medical Association, Bexar County Medical Society, Texas Medical Association
Publications
Muhammad Naeem, Lubna Naeem and John E. Morley, "The Science of Geriatrics". Editors: Morley JE, Ambraschtl A and Coe L, Publisher: New York, NY, Springer 2000
Research projects
Allergic bronchopulmonary Aspergillosis; the role of cytokines and T-cell mediated responses in pathogenesis as well as immunologic pathways to counteract server cytotoxic responses. Department of Allergy and Immunology, Supervisor: Raymond Slavin, MD, Professor of Medicine, Chair Department of Allergy and Immunology, St. Louis University School of Medicine, St. Louis, MO, 1997.
Gerontology and Alzheimer's Dementia: Role of micro-tubule assembly in cortical neurons in SAM-P8 mice as a marker of memory loss. Supervisor: John E. Morley, MD, Professor of Medicine, Chair of Geriatrics, St. Louis University School of Medicine, St. Louis, MO, 1999.
Poster Presentation at American College of Physicians (ACP) annual session (Missouri Regional Chapter), October 1998. "Intra-cerebral Tuberculoma in a Young Health Female".
Other presentations and research
Presenter at Medina County Women's Conference, October 2012. "A Healthy and Beautiful You"
Performance Improvement: JHACO, STRHS, Inc. 03/2003
Obesity: Rotary Club Frio County, 07/2003
Diabetes Collaborative/Obesity and its Management: Peer Review Committee, STRHS, Inc. 10/2003
Medicare Modernization Act 2003: Peer Review Committee, STRHS, Inc. 02/2004
Emergency Contraception: Peer Review Committee, STRHS, Inc. 02/2004