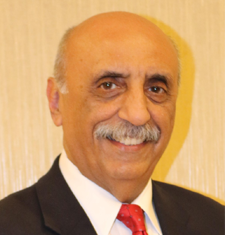 Naseem A. Shekhani, MD
President Elect 2018
Naseem Azeez Shekhani, MD
Board Certified, Physical Medicine, and Rehabilitation.
Live and practice in St. Louis, Missouri since 1997.
Completed High School at St. Patricks High School, Karachi, Pakistan 1972.
Completed Pre-Medical undergraduate studies from D.J. College Karachi, Pakitan 1974
Graduate of Dow Medical College Karachi, Pakistan 1982.
Completed Family Practice Residency1991, From SIU School of Medicine, Springfield Illinois.
Completed Physical Medicine and Rehab Residency at Rush University, Chicago Illinois. 1997.
Chief Resident, at Rush University PM&R program 1996-97.
President, Dow Medical College, Karachi Pakistan 1979-80.
Unit Secretary at Dow Medical College; National Student Federation 1977-79.
President, National Health Forum, Inc, USA. www.nhfus.org
SERVICES AND INTERESTS:
Lifetime Member Pakistan Medical Association
Board Member American Civil Liberties Union for five years.
Supporter and Member, Amnesty International, since1980.
Member  National Association for the Advancement of Colored People (NAACP)
Member, Southern Poverty Law Center.
Mentor; Serve Our Civil Hospital (SOCH) Welfare Student Organization.
Member Executive Council, DOGANA, 2004-2007.
Been Chair of Publication and Membership Committee of DOGANA. (2004-2007)
Chair, DOGANA Retreat 2004-2005.
Secretary, APPNA St. Louis Chapter, 2011
President APPNA St. Louis Chapter 2012.
Chair Winter Meeting, Karachi for DOGANA 2013.
Advisor; Social Welfare Disaster Relief Committee APPNA 2014.
Founding Chair and first Executive Director APPNA Foundation 2014.
Board Member; Public Broadcasting, Inc,  Non for profit Media Outlet, NAYA DAUR.  2017 to present.