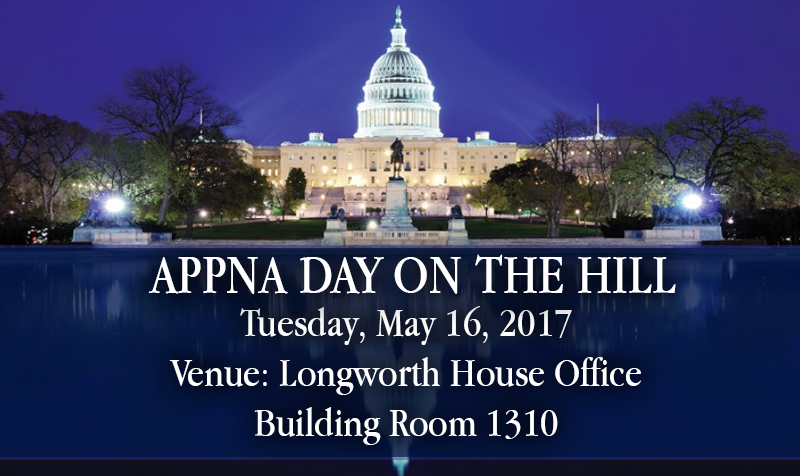 APPNA is having a Day on The Hill on Tuesday, May 16th, 2017 in Washington, DC.
Recently, one of our own, Dr. Javed Akhter a respectable member of our physician community and past president of APPNA was detained at the New York Airport upon his return from an international trip. Not only was he interrogated but was also denied his basic civil rights during the hours that he was detained. He and his family went through an ordeal that none of the law abiding, respectable citizens of our country should have to go through. We need to make every effort to talk to our legislators about protection of our civil rights as well as other visa and immigration issues and concerns of Pakistani Americans in general and Pakistani American physicians.
J-1 and H1-B visa clearance is another very important issue pertaining to our young physicians from Pakistan. In order to assure the timely security clearance of the young Pakistani physicians who are due to join their residency training programs come July 1st, APPNA has been advocating for an expedited process for this specific period of time and we will take up this issue again.
Given the current political environment with the rights of immigrants under intense risk, this year may be the most important advocacy day to attend.
Here is the schedule for Day on the Hill 2017:
10:30 AM
*Arrival: Meet in Longworth House Office Building Room 1310; Introduction of the day's events and briefing on logistics; Coffee will be served.
11:30 AM
*Policy Panel: Muslim Ban & Civil Liberties – ACLU National Political Director Faiz Shakir; Visas – Former Assistant Secretary of State for Consular Affairs Michele Bond.
12:30 PM
*Lunch: Key Members of Congress will come and speak to the group.
1:30 PM
*Prep for Congressional Office Visits.
2:00 PM
* Congressional Office Visits: Visits to District Representatives and Members from the Key Committees.
4:00 PM
*Day Concludes.
If you wish to attend, please email appnajennifer@gmail.com by Wednesday, May 10, 2017. For information, contact 630-968-8585 ext. 105.
We hope that you are able to attend and participate in this very important day and raise a unified strong voice!
Cordially,
Abdul Rashid Piracha, MD
Chair, Advocacy Committee 2017
Sajid Chaudhary, MD
President APPNA, 2017
Memo for Congress
From:             Association of Physicians of Pakistani Descent of North America (APPNA)
Date:               May 16, 2017
Subject:           Visas for Pakistani Doctors
On behalf of the 18,000 Pakistani American physicians who comprise the membership of the Association of Physicians of Pakistani Descent of North America (APPNA), I am honored to meet with you and/or your staff. APPNA has members in all 50 states and is the largest Pakistani-American non-profit, as well as one of the largest national medical organizations in the country.
Our leading members are in Washington to discuss pressing challenges facing Pakistani doctors in obtaining visas (J-1, B1/B2, H-1B) to complete their medical residency training in the United States by working in underserved American communities.
Background: Visas for Pakistani Doctors to Train and Serve in Rural America
Pakistani doctors currently being matched with U.S. medical residency programs are hoping to receive visas for their training by this June, to begin work soon thereafter. These doctors typically serve in rural areas and have a deep historic track record of positive impact on their communities. However, APPNA has received multiple reports that many visa applications are being rejected.
Each year, there are over 6,000 foreign medical graduates globally who get matched and start medical residency. Most of these serve in underserved areas of U.S. after completing their training. Pakistan is among the leading countries of origin of these foreign medical graduates. There are three types of visas used for these foreign medical graduates: visitor visa (B1/B2), exchange visitor visa (J-1), and H-1B non-immigrant visa.
Pakistani descent foreign medical graduates are facing increasing number of denials as well as applications being placed in administrative processing. It is becoming difficult for them to undertake residency interviews or do clinical electives in U.S., which undercuts the ability of rural Americans to receive crucial medical care.
Visa Types for Which Pakistani Doctors Apply
J-1: This is a non-immigrant exchange visitor visa issued to those, amongst other applicants, who seek to obtain medical training within the U.S. All applicants must meet eligibility criteria, English language requirements, and be sponsored either by a university, private sector or government program.
B1/B2: The B1 is a non-immigrant visa issued to foreign citizens seeking entry for a temporary period. It is issued to those seeking entry for business purposes. In practice, it's combined with a B2 and issued as a "B-1/B-2 visa" valid for a temporary visit for either business or pleasure, or a combination of the two.
H-1B: Thisis a non-immigrant visa that allows U.S. employers to temporarily employ foreign workers in specialty occupations, such as medicine. It's initially granted for up to three years, but can be extended to a maximum of six years. It also has dual intent, meaning that the H-1B visa holder can apply for and obtain a Green Card while in the U.S. on an H-1B visa.
Key Concerns about Visas for Pakistani Doctors
Pakistani doctors that have been accepted into American medical residency programs are not receiving their visas in a timely manner. APPNA is receiving multiple reports that visa applications are being either delayed or rejected.
Because of visa delays, Pakistani doctors are in peril of losing their residency opportunities to both train and work in underserved rural American communities.
Visas need to be approved by no later than June for the doctor to be able to come to the U.S. for his/her residency.
Request
Congress must weigh in and press the State Department to move more quickly on facilitating these visas. Delays and refusals are putting the ability of Pakistani doctors to come to the U.S. to both train and work in underserved American communities in peril.
Dear APPNA Members,
These are trying times for immigrants in general and Muslim immigrants in particular. World is changing rapidly and we have to step up our efforts to keep up with uncertain times and tackle new challenges that we are facing today. There is heightened anxiety about recent executive order by President Trump to impose a travel ban on 7 countries of Muslim majority. Last few days have been of grave concern as travelers have been detained at various US airports and US citizens have responded with protests and rallies. There is a serious concern that similar restrictions may be placed on travelers from Pakistan.
I want to reassure all APPNA members that we are being proactive in taking constructive steps to address the current issue at hand. It may be of some reassurance to many that US citizens and Green Card holders are not included in this executive order. Yesterday, I called Chair of Advocacy committee, Dr. Rashid Piracha and an urgent meeting was held on January 31st to discuss and devise a comprehensive plan of action. The meeting was attended by all the members of executive committee, chair, co-chair and members of Advocacy committee. A multi-prong approach was devised to deal with the challenge at hand.
It will require our collective resolve and resources including man power and finances. If there was ever a time to for Physicians of Pakistani Descent to come together in unity and join hands together in an effort to safeguard our civil rights, then this is it.
Briefly, the following plan was discussed:
1. An urgent fundraising needs to be done to raise the required funds for various activities that will be undertaken in next few weeks and months. The committee members pledged $1000 each as contribution towards the Advocacy fund.
2. Arrange a Day on the Hill as soon as possible to engage our legislators and register our deep concern about the executive order which is endangering the very fabric of American Values.
3. Engage all the chapters to activate and involve local members in an effort to reach out to their respective legislators and register their protest and dissent. A letter will be sent out to all Chapter Presidents urgently.
4. Consulting top immigration lawyers to advise us about potential ramifications of the executive order vis a vis foreign travel. We have requested specific advice on all categories of visa holders. The advice will be shared with the membership as soon as it is available.
5. Contact law firms/organizations that routinely deal with visa/immigration issues to address potential consequences of somebody who is already in a foreign country and is facing any difficultly coming back to USA.
Here is some useful information: The Association of Muslim American Lawyers ("AMAL") announced that AMAL board members are offering legal representations and their respective firms are offering pro bono services to the community. They are at various airports in New York and New Jersey in case travelers need assistance due to any immigration hurdles under light of the executive order.
May Mansour has her firm Simpson and Thacher & Bartlett dispatch attorneys to New York airports. Contact number: 917 756-4136
Ally Hack's firm, Cozen & O'connor at (212) 453-3813
Omar Mohammedi at OTMLAW, (212) 725-3846
Iman Boukadoum at 703 424-8463
Tariq Hussain at Hussain & Khan, 201 893-5498
Jennifer Ismat at (917) 704 3912.
Muslim Legal Fund OF America offers help. Mr. Khalil Meek 972-849-9188 kmeek@mlfa.org.
APPNA will do everything in its power to safe guard the civil rights of its members and their families in this critical time. I urge every Physician of Pakistani Descent to renew their APPNA membership and become actively involved. Strength is in numbers when it comes to getting our voice heard in the chambers of Capital Hill so we can defend and protect our rights and rights of our children.
If you would like to participate in the advocacy committee please contact APPNA Secretary Dr. Rizwan Khalid at 203-892-5140 or email at rizwan_khalid@yahoo.com.
Please send your contribution to APPNA Office & memo to Advocacy Fund.
Mail to: 6414 South Cass Ave
Westmont, IL 60559-3209
Sincerely,
Sajid Chaudhary, MD
President APPNA 2017
Congressman Brian Fitzpatrick (PA 8th District) Speech at 2017 APPNA Spring Meeting

Pennsylvania Attorney General Josh Shapiro Speech at 2017 APPNA Spring Meeting