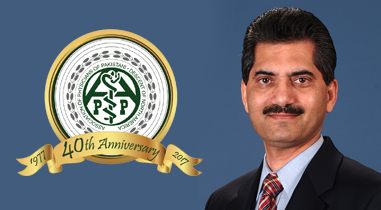 Dear APPNA family:
Asalamo Alailkum, It is my honor and privilege to serve as APPNA president in the year 2017. Please accept my heartfelt and warm wishes for a very happy and prosperous new year.
APPNA is in the 40th year since its inception and has developed into a great organization for expatriate Pakistani physicians. There is so much to be proud of and I congratulate all of you who support and work together to uphold the ambition of humanitarian and charitable work from APPNA's platform. Our work in the field of visa issues for young physicians, advocacy for civil rights, scholarship programs, building orphanages, schools and assisting in healthcare through eye camps, diabetes centers, hepatitis C and breast cancer awareness programs has been the collective effort of visionary leaders and unsung heroes. Even when members cannot volunteer in person, they contribute financially and enable us to continue APPNA's many projects. Our meetings and conventions bring the much needed revenue for administrative and charitable expenses; therefore your participation in the meetings helps APPNA as well.
Even though we have a lot to be proud of when we look at the history of our contributions and accomplishments in our homeland, we have had our share of trepidations as well. Recently, a tide of change in USA has brought some uncertainties and challenges for us. Many people are concerned about the status of healthcare policies and civil liberties. In the past, we have endured the phase of insecurities about civil liberties in post 9/11 world, with our young physicians facing visa problems as well. These difficulties may grow stronger and more defined in the coming months and years. I remain dedicated to rise to any challenge that we may face.
In words of our president,
"It is that American spirit – that American promise – that pushes us forward even when the path is uncertain; that binds us together in spite of our differences; that makes us fix our eye not on what is seen, but what is unseen, that better place around the bend".
Dear friends, it is time for us to work together now more than ever. APPNA provides us with a real opportunity to do a lot of valuable work. We have made a positive impact in our societies here in USA, with programs like regular free APPNA clinics, National Health Care Day and charitable efforts when a natural disaster has struck. We now need to work harder to assimilate and integrate in the society. It is very important for us to realize that the need of the day is to make a clear and positive mark on the minds of our neighbors and fellow citizens. We need to build bridges within communities, encourage leadership and empower the younger generation of physicians who are being raised and trained in the U.S.
There are not enough words to emphasize the greater role that APPNA needs to take in our local communities; therefore, I plan to make the theme of next year to be "Community Empowerment through Civic Engagement". We will institute programs to fulfill this ideology throughout the year in 2017 and in future. I am confident that APPNA members will come together to realize this goal.
I humbly request members to volunteer for various projects that APPNA will undertake and initiate in 2017. I invite the North American Medical Graduates in particular to come forward and join in as we navigate the process of "Community empowerment with Civic Engagement". I have no doubt that, with our unified efforts, we will effectively establish an image of APPNA which will help change the impression of our Pakistani American community in USA.
APPNA will continue to expand the charitable and healthcare projects in Pakistan and provide disaster relief measures, whenever and wherever it can. Our Social welfare committee and APPNA Medical Corps committee will spearhead such humanitarian projects for the welfare of common people.
I look forward to receiving your ideas, feedback and most importantly, your active participation. Please write to me at sajid_chaudhary@yahoo.com. You may also contact the central office at appna@appna.org.
Sincerely,
Sajid Chaudhary, MD
President 2017