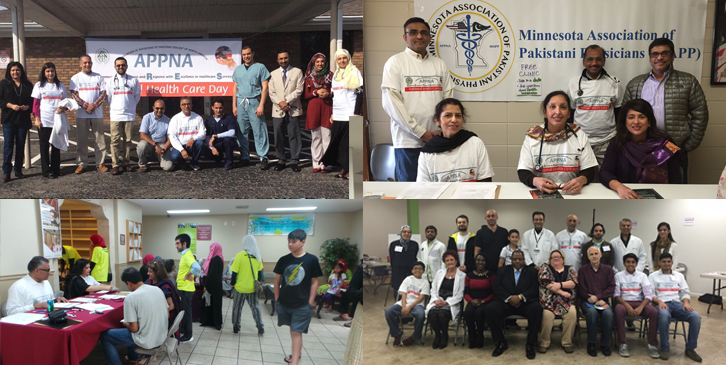 APPNA National Health Care Day 2015 was a great success on Saturday, October 24, 2015. Overall APPNA members, APPNA leadership and local communities arranged wide range of activities for this APPNA National Health Care Day 2015 including but not limited to Media involvement, marketing and advertising the services to the communities, providing free services like flu shots, specialist consultations, labs and diagnostics. APPNA central office provided flu shots for those who completed paper work requirements and T-shirts for this event as well.
Here are highlights of few of these (please visit APPNA and click Archives National Health Care Day 2015 for details of some chapters like Illinois, Alabama, St. Louis, Minnesota, Arizona, New York. Other chapters reports and pictures are pending).
Alabama Chapter
(1) We served 136 patients providinng flu shots, lab work and expert specialist physicians services
(2) We collaborated with Birmingham Islamic Society who provided rides for kids and food festival (several food vendors)
(3) CME presented by Dr. Farah Khan
(4) Approximately 15 or more physicians and 20 or more non-physician volunteers
(5) Our Red Crescent Clinic of Alabama Supported by APPNA and BIS was the location of the event
(6) ABC 33/40 provided coverage and showed on TV about our APPNA National Health Care Day 2015
(7) Life South Blood Drive on the Health Fair site
APPNA/PPS Team
On behalf of all the physician and non physician volunteers we here at APPNA / PPS clinic in Westmont Illinois, would like to report the we have another successful APPNA NHCD today. Where gave Flu, meningitis vaccine and screened and treated people for diabetes, HTN, hyperlipemia, asthma and sleep apnea. Comprehensive testing was free to all the attendees and arrangements were made for proper follow up at the clinic and also subspecialty services if needed within our existing network.
Great St. Louis Chapter
The Association of Physicians of Pakistani Descent of North America (APPNA) – Greater St. Louis Chapter, in conjunction with it's community partners, organized a free health screening as part of the APPNA National Health Care Day on Sunday, October 25, 2015 at the Islamic Community Center, which primarily serves the South St. Louis City Bosnian-American community.
Approximately 20 internists, specialists, counselors, translators, and students offered free blood pressure screenings, Body Mass Index measurement with diet counseling, asthma screening, prostate and breast cancer counseling, vision and glaucoma screening, and blood panel testing. Free flu vaccinations were administered.
We thank our partners, including LabTest Diagnostics, Lifelong Vision Foundation, Midwest Pulmonary & Critical Care, Saint Louis University's Center for Cancer Prevention, Research, and Outreach (CCPRO), and Walgreen's Pharmacy for assisting the APPNA Greater St. Louis Chapter with a successful community and health service program.
Arizona Chapter
Please check out our 2015 Arizona Chapter NHCD Event on Facebook.
https://www.facebook.com/media/set/?set=a.938712166165295&type=1&l=cde4f9ce42
Chair, APPNA Adhoc Committee for Health Care Initiative
Ehtsham Haq, MD
Members
Aniqa Baqauddin, MD
Adeel Rabbani, MD