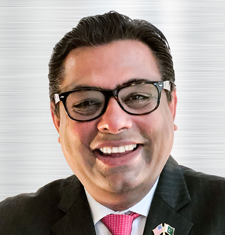 Dear APPNA members
Exciting times for APPNA as we just finished Planning and Strategy meeting in Miami and ready to break new grounds. Previous few years have changed APPNA forever! The amount of work in strengthening of its foundation and processes has been enormous – but we still need to go ways withconsensus building, open communication and a lot of give and take with breaking the status quoto take our organization to the next level.
We have within us sectarian, linguistic and many other biases the only thing that can and will overshadow all that is SOLID WORK towards Institution building within APPNA and development of alternative revenue streams with Transparency and Accountability.
• Improve perception of APPNA from only social issues and events based organization to an Educational and Philanthropy based organization with clear financial transparency thus rebuilding TRUST and bringing people back to APPNA.
• Much needed are financially solvent professionally run institutions, which are in sink with our mission and charter thus diversifying sources of revenues for APPNA taking away reliance solely upon meetings, international trips etc.
• Our clinics need to be full time professionally run under one entity all across USA which although are non for profit but should also generate revenues and employment,
we further need APPNA hospital, our own residency program, our own school of allied health, nursing school, our own graduate level school and our own Research institutions.
• Fair share of incomes need to be shared with component societies.
• With the new geopolitical environment we need to be ready for any kind of Audits or Scrutiny and will have to manage every thing with heightened checks and balances
I further want to thank members of our Finance and Asset management committee for their hard devoted work to strengthen APPNA- with out their help none of this was possible!
M. Sohail Khan MD
Secretary APPNA 2018
January 31, 2018
NEW YEAR's MESSAGE
Dear APPNA Members
Happy NEW YEAR to every one !
Thank you for all your help and support as I move from being Treasurer to Secretary and am very excited to work with the newly elected team under leadership of Dr Iqbal Zafar Hamid.
The challenges within APPNA are enormous but all boils down to openness, transparency, accountability and delivery.
Long term planning and goal oriented approach is the only way forward with all involved in decision making process rather then just a few – as I am witnessing the enthusiasm and commitment in the new team at work I am very confident we will have a good year with many long term objectives not only be started but will be completed. We will be working very hard to improve policy and procedures and hardwire them with in the organization to improve its function for years to come. Building Educational institutions under APPNA is a huge priority for me with having APPNA deliver Quality health care for our communities will be a key focus.
Dr Iqbal Z Hamid and Dr Naseem Shekhani have started to put out their action plans and I will facilitate them to the best of my abilities and continue to improve what already has been laid down by our predecessors. Lastly but not the least we need to continue on solid work towards advocacy keeping in mind our current geopolitical challenges
Please join us at the APPNA planning and strategy meeting in Miami End January where all the brain storming and decision making will happen for the year 2018 and kindly share your thoughts with me  so I can facilitate your suggestions and thoughts into actions
M. Sohail Khan MD
Secretary APPNA 2018
January 1, 2018